Services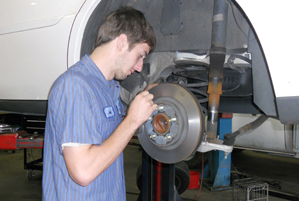 Gainesville Transmission has been known throughout the Gainesville area for our expert transmission maintenance and services. Improve the performance of your vehicle with transmission repair and replacement services from our qualified staff in Gainesville, Georgia.
Our family-owned and operated business is proud to feature a knowledgeable, dependable and honest Gainesville transmission mechanic staff backed by many years of combined transmission replacement and repair experience.  We are conveniently located at 2620 Walker Street, Gainesville, Georgia. You can phone us for an appointment in Gainesville at 770-536-4737.
Transmission Repairs
Our Gainesville staff rebuilds, repairs, and installs standard and automatic transmissions for all makes and models of foreign and domestic cars, trucks and motor homes.  From a basic servicing of transmission fluid to a complete rebuild of your system, our mechanics are well-versed in all the nuances of automobile transmission service.
Service with Gainesville Transmission
We feature a state-of-the-art facility and a staff of certified Gainesville transmission mechanics that can repair and rebuild all new and used transmissions.  At Gainesville Transmission, we recognize that the customer comes first.  Our convenient location in Gainesville makes us the premier destination for Gainesville transmission diagnostics and repairs. Visit us today to take advantage of our free estimates, diagnostic testing and road testing services.
Factory trained service advisors will explain, in plain English, the complexities of your vehicles transmission problems. Then put you back on the road fast... and within your budget.  It is our mission to provide our customers with the highest quality repair work available in Gainesville, while offering reasonable and fair prices. Gainesville Transmission prides itself on being active members of Automotive Service Excellence Association (ASE) and Automatic Transmissions Service Group (ATSG)
The standards of Gainesville Transmission has set it apart from the competition because of our commitment to service and quality. The services we offer include:
External and check engine light diagnostic services
Computer/electrical diagnostic checks (Engine & Transmission)
Automatic transmission repair, rebuilding and upgrading
For cars, SUVs, medium and light-duty trucks
Transmission repair and rebuilding
Clutch and clutch hydraulic repair and replacement
Manual transmission rebuilding
Transfer case repair and rebuilding
Differential rebuilding
Radiator and water pump repair
Heating and cooling services
Engine tune-ups and replacements
Factory recommended service
Air Condition service and repair
E-mail or call us at (770) 536-4737 to ask our staff a question about our Gainesville transmission repair service.
For more transmission information about Gainesville Transmission and our other services, please call us at (770) 536-4737.